Ref:
Date:
Location:
Photographer:
Ref:
Date:
Location:
Photographer:
About Bee
'Bee is interested in the effects of light and colour in nature. Whether she is creating a portrait, or an imaginary landscape, she conveys her feelings about the subject through an expressive use of colour'.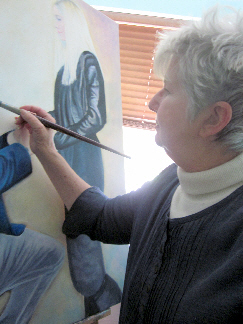 As well as producing my own work, I also work to commission from clients' own photos, painting portraits of people and pets, houses, favourite places and landscapes.
My favourite media include oils or acrylic paint, mixed media and collage on canvas, board or wood.
I studied fine art at the Cyprus College of Art, where I was living at the time, and the Open College of the Arts UK. Since 2003 my work has been commissioned by clients from countries including USA, Canada, Singapore, France, Holland, Denmark, Cyprus, South Africa and UK.