'I'm a painter interested in showing effects of light and colour in nature, and my intuitive response attempting to express human thought, emotion and half forgotton memory.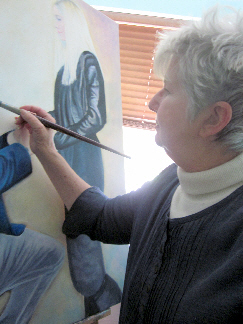 Previously a traditional portait artist, I now concentrate my practice on expressionist work, creating paintings intuitively from imagination using fine art techniques, mixed media, layers of painted paper fragments and resin. Inspired by memory, nature, animals, people, places and landscape. I work on paper, canvas, board or wood.
I studied fine art at the Cyprus College of Art, where I was living at the time, and the Open College of the Arts UK. Since 2003 my work has been commissioned by clients from countries including USA, Canada, Singapore, France, Holland, Denmark, Cyprus, South Africa and UK.